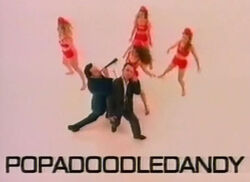 Popadoodledandy
was a pop music show devised, written and performed by comedians
Vic Reeves
and
Bob Mortimer
in December 1992. Only a pilot of the show was filmed and what might have become of the show is unknown. The pilot was eventually broadcast by Channel 4 on 21 August 2012 as part of its Funny Fortnight season.
Background
Edit
Popadoodledandy is Vic and Bob's take on a pop show, filmed for Channel 4 in December 1992 shortly before they moved to the BBC. Channel 4 had just repeated an edited version of Vic Reeves Big Night Out at 6.30pm (much earlier the usual 10.30pm timeslot) believing that it would give Vic and Bob more of a youth base, and so more of a youth show was devised.
The show included music-based sketches and interviews with musicians, all written and performed by Vic and Bob. The pilot was made but was never broadcast and the show was never commissioned as a series.
Vic and Bob wrote the entire show - as the producer Graham Smith said, "they have such enormous confidence in what they come up with, and by and large it works".
Pop stars such as Nick Heyward, Kym Mazelle (who was asked to explain, with the aid of diagrams, how she would transport some meat), Denim (in which Vic & Bob measured singer Lawrence's weight) and Cud (whose performance was interrupted by Vic and Bob coming on the stage wearing My Little Pony rucksacks) were interviewed for the show in true R&M fashion, with absurd questions befuddling the musicians. It also included a performance by Milan, a 3-piece girl group featuring a teenage Martine McCutcheon, who later punched Vic in the stomach (at Vic's behest).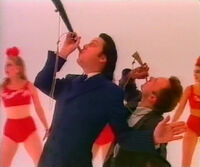 Channel 4 had been asking for a pop show from Vic and Bob for some time, and the pilot resulted in a show that Vic said he would have enjoyed to watch. Channel 4 were desperate for a series of Popadoodledandy to be filmed, and according to Bob they wanted fifty episodes (though the R&M biography claims that this is evidence of Bob's tendency to exaggerate).
By the time the pilot was complete, Vic and Bob were committed to the BBC and so nothing more was made of the series.
The only footage broadcast of the pilot was shown on Naked City (another pop show) in 1993 showing the beginning of the show with some of the interview with Kym Mazelle.