Welcome to Vic & Bob Wiki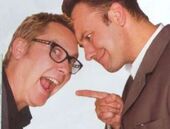 Vic & Bob Wiki is the only online encyclopaedia and community based around comedians Vic Reeves and Bob Mortimer, including their work together. In time, the site hopes to include in-depth articles on their television and radio work together including Vic Reeves Big Night Out, The Smell of Reeves and Mortimer, Bang Bang It's Reeves and Mortimer, and Shooting Stars, as well as content on their other solo projects such as Vic Reeves' Rogues Gallery and Bob's 29 Minutes of Fame. Right now, the site has 13 articles.


News

R&M Wiki Welcome to this brand new site (well, a new bit of a not so new site) - and it'll be brilliant. One day. Really, it's an encyclopedia of all things Vic and Bob, which anyone can add to! Have you got some form of knowledge running right down the middle of your mind? Well spill it out over here!

R&M DVDs On Play The recently released The Smell of Reeves and Mortimer and Bang Bang It's Reeves and Mortimer DVDs have been reduced on Play.com and are now ridiculously cheap - £8.99 and £7.99 each! Get them while the offer lasts, they're too cheap to miss!! (Wed 20 Sept 2006)

Project: R&M is currently trying to grow the number of pages in the site to allow more information to be added.

If you'd like to get involved, check this page.

Quick Links




Ad blocker interference detected!
Wikia is a free-to-use site that makes money from advertising. We have a modified experience for viewers using ad blockers

Wikia is not accessible if you've made further modifications. Remove the custom ad blocker rule(s) and the page will load as expected.